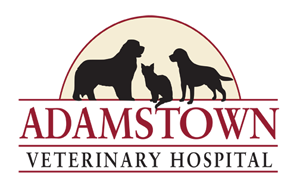 Adamstown Veterinary Hospital
2481 North Reading Road Denver, PA 17517
(717) 484-0440
Adamstown Veterinary Hospital has provided compassionate, high quality care to families and pets of Berks, Lebanon and Lancaster counties for more than 25 years. We provide a variety of medical, surgical, dental, wellness and preventative care services for dogs, cats and exotic patients. Every pet that enters our doors will instantly be well-cared-for by our compassionate and attentive veterinary team. We welcome you to visit us anytime to experience our friendly, caring and professional atmosphere.
In September 2004, Drs. John O'Neill and Erin Murphy purchased the hospital from its previous owner and, since then, have more than tripled the number of staff and expanded the range of services offered.
One thing that hasn't changed is the hospital's guiding principle: To treat every pet and client like family, and to always do what is in the best interest of the patient.
Our healthcare team consists of four full-time veterinarians and more than ten support staff. Client communication, education, disease prevention, and wellness are our top priorities.