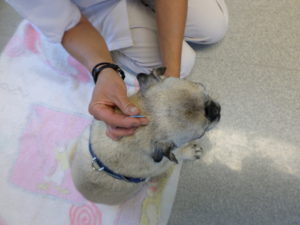 Adamstown Veterinary Hospital began offering acupuncture in June of 2016. TeamAVH is very proud to be able to offer an alternative veterinary service to their patients. Many of the members of TeamAVH have seen the benefits of acupuncture in their own pets and believe it is a great support to a pet's well being.
What is Acupuncture?
Veterinary Medical Acupuncture involves the insertion of very small, sterile needles into specific points (or acupoints) in the body to stimulate specific nerves, muscles, connective tissue and blood vessels. This stimulation helps the animal's body release natural endorphins and anti-inflammatory molecules, increases blood and lymphatic flow, stimulates the nervous and immune system. These changes helps the body to feel better and heal faster.
Benefits of Acupuncture
Acupuncture has been proven to help animals with pain control due to surgery, injury or arthritis. It also has been beneficial for many other disorders such as vomiting, diarrhea, constipation, intervertebral disc disease, immune diseases, dry eye (KCS), seizures, poor appetite, kidney and heart disease, anxiety, depression and cancer/hospice care.
What are Acupuncture methods and goals?
Acupoints can be stimulated in a variety of ways. These techniques include dry needling, aqu-acupuncture and electro-stimulation. A thorough history and physical examination will be performed to help determine the best treatment protocol. Therapies may involve both Western and Eastern modalities including medications, diagnostic laboratory testing, radiographs, laser therapy and acupuncture.
How long does each treatment last?
The goal for each session is to have a calm, relaxing environment. We do not schedule any other procedures for the pet the day of acupuncture. The initial session may take up to 60 minutes which allows the doctor to review the history, complete a thorough physical examination and build a rapport with the patient before any needling is done. Subsequent session may take 30-45 minutes, which allows the doctor to review the patient's response to the previous treatment and to develop a plan for continued treatment. The actual acupuncture needling time varies. The needles may stay in place from 15-20 minutes depending on the animal's response to the stimulation.
How many treatments are needed?
The number of treatments depends upon the nature, severity and duration of the disease. A single treatment may be enough for an acute condition. A series of 5 to 10 treatments can help many chronic conditions. Some degenerative conditions may need monthly treatments over time. At each visit, the doctor will discuss the patient's response and determine when and if another treatment is needed.
Does Acupuncture hurt?
Over 95% of patients are comfortable with acupuncture therapy. A very thin needle with out a cutting edge is used during acupuncture. Many times the patient does not feel it when it is being placed and may actually become very relaxed and fall asleep during acupuncture therapy.
Dr. Marcie Ho-Gatto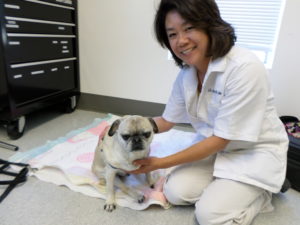 Dr. Ho-Gatto joined Adamstown Veterinary Hospital in 2016. She grew up in Hawaii and attended the University of Hawaii, where she received her undergraduate degree in Animal Science. She then attended the University of Missouri- Columbia Veterinary School. Upon graduation, she traveled the states and worked both as a general veterinary practitioner as well as a regional medical director for a veterinary corporation.
Dr. Marcie has a strong interest in alternative medicine and has received her certification in veterinary medical acupuncture. She enjoys being able to offer clients alternatives to help make their pet's lives happy and healthy. In her spare time, Dr. Marcie enjoys traveling with her husband Nick and 2 children to visit family in Hawaii, gardening, and participating in craft fairs with her pottery creations.