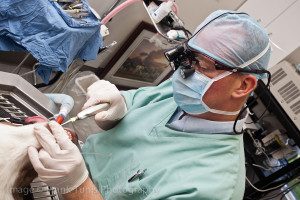 Regular dental care is important to maintaining your pet's teeth, as well as to support good general health, prevent infection and avoid disease. Do you know that 85% of our pets have periodontal disease? It is the number one most diagnosed disease in our dogs and cats. Periodontal disease can lead to the compromise of the heart, liver and kidneys. Many pets will not show any signs of pain or discomfort until the late stages of periodontal disease.
Adamstown Veterinary Hospital offers numerous dental services. Dr. John O'Neill and his certified veterinary technicians, Jamie and Kim, have been to numerous special dental sessions to help maintain a high level of care and ensure your loved one is receiving the highest level of treatment that is possible. Our veterinary dental services include:
Dental Cleanings
Digital Dental Radiography
Dental Charting
Periodontal Treatment
Surgical Extractions
Endodontics
Prosthodontics
Fracture Repair
Oral Tumor Removals
Download our Dental Brochure PDF
We use state-of-the-art technology and equipment.  We encourage you to explore these websites offering in-depth information on veterinary dental care.