John O'Neill, DVM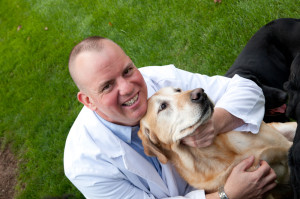 Dr. John O'Neill, has owned Adamstown Veterinary Hospital since June of 2004. Prior to joining AVH, he was a large animal veterinarian with special interest in dairy. He graduated from The Ohio State University in 1998. Dr. O'Neill's areas of special interest are dentistry, preventative care, root canals, oral/nasal surgery, general medicine, and the business side of veterinary medicine.
Outside the hospital, he enjoys spending time with his furry "kids": Bronte, Brighton, Blitz, Brooke, Boeing, Cash and Maeve. Dr. O'Neill's hobbies include watching Buckeye football, competitive archery, being a member of local organizations, fishing and training/showing dogs with his wife.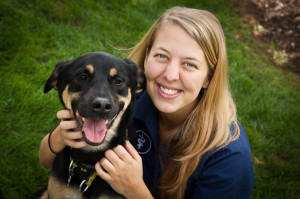 Dr. Jen Sutton graduated from Virginia-Maryland Regional College of Veterinary Medicine and was born and raised in Lancaster County, Pa.  Even though four years were spent on the Virginia Tech campus, Dr. Sutton's football allegiance is to her undergraduate alma mater, Penn State. Her special areas of interest in veterinary medicine are preventative care, ultrasound and behavioral medicine.
Dr. Sutton enjoys any time spent with her favorite boys, Tucker (a Heinz '57 variety special) and Buggins (a French Bulldog).  Some of her other interests include hiking, running, and traveling.  
Elyse Fisher, DVM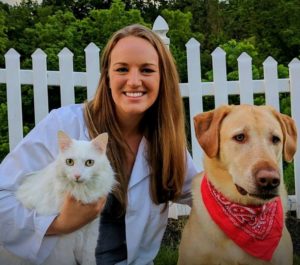 Dr. Elyse Fisher, a Lancaster county native, is a 2017 graduate of The Ohio State University College of Veterinary Medicine. She completed her undergraduate degree in Animal Sciences at Pennsylvania State University  in 2013 where she played trombone in the Blue Band. She and her husband Chad still enjoy attending Penn State games in the fall.
She has two dogs, Torino (Labrador) and Maverick (Dalmatian), and three cats, Blizzard, Sunny and Aurora. She also has a pet ball python, Pandora. In her free time she enjoys traveling and spending time in the great outdoors: hiking, camping, kayaking and vacationing to the beach. Her veterinary interests include general wellness, soft tissue surgery, and dentistry with a special interest in feline medicine. She looks forward to meeting you and your pets!
Tere Hernandez, DVM